Feminine Fusion
September 7 – 13, 2019: Season 4 Begins: Patchwork Quilt XV
by Diane Jones
September 7, 2019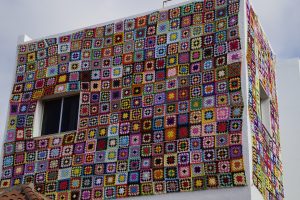 "Music doesn't lie.  If there is something to be changed in this world, then it can only happen through music."  – Jimi Hendrix
Ready for another season of Feminine Fusion?  We're kicking off Season 4 with a Patchwork Quilt episode. And all the music on this program comes from CDs released in 2019.
"Season 4: Patchwork Quilt XV"
Valerie Saalbach:  Going to Heaven!
poem by Emily Dickinson
Elyse Anne Kakacek, soprano
Christopher Fectau, piano
"Untethered"
True Capture Records
Louis Karchin:  Act II, opening (from the new opera, "Jane Eyre")
Libretto by Diane Osen
Jennifer Zetlan, Kimberly Giordano, Ryan MacPherson, vocals
Orchestra of the League of Composers; Louis Karchin, conductor
"Jane Eyre"
Naxos 8.669042-43
Franz Schubert:  Sonata in D Major, Op. 137, No. 1
Vera Beths, violin
Kenneth Slowick, fortepiano
"Franz Schubert"
Smithsonian Friends of Music 20-801
Alicia Terzian:  Un Argentino de Vuelta
Grupo Encuentros; Alicia Terzian, conductor
"Tangos…& Something More"
Navona 6246
Mario Castelnuovo-Tedesco:  Quintet for Guitar and String Quartet, Op. 143
Sharon Isbin, guitar
Pacifica Quartet
"Souvenirs of Spain & Italy"
Cedille 90000 190
Leonora Duarte:  Sinfonia No. 4
Sonnambula
"Leonora Duarte: The Complete Works"
Centaur 3685
58:29
Feminine Fusion highlights the roles of women in classical music.  Host Diane Jones brings you stories and music of the women who create, perform, and inspire.  Produced in the studios at WCNY-FM.
◄ Back to News