Connect Card Partner
---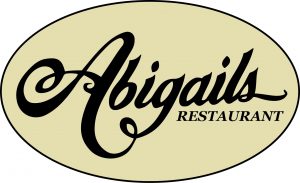 Abigails
2-for-1 entrée (Value $10 lunch or $15 dinner)
1978 US Route 20, Waterloo, NY, Seneca County, United States
(315) 539-9300
Hours:
Lunch Mon. – Fri. 11:00 a.m. – 2:00 p.m.
Dinner Mon. – Sat. 5:00 p.m. – 9:30 p.m.
Sun. 4:00 p.m. – 8:00 p.m.
---
$$$$ Abigail's Restaurant is located between the Villages of Waterloo and Seneca Falls, just minutes from the NYS thruway exit #41 and the Waterloo Premium Outlets. Locally owned and operated by 3rd and 4th generation "restauranteurs", they have been serving Seneca County and the surrounding areas for over 30 years. Their goal – to provide high-quality homemade cuisine prepared by skilled hands and presented with quality service.
In addition to serving lunch and dinner, they are able to host private parties of 10-100 people. And, for your next family gathering or office luncheon, call for catering menus!
Enjoy Abilgail's full service bar, and the all-you-can-eat lunch buffet Monday to Friday. And while at Abigails be sure to try the award winning Bleu Bayou Chicken Wings…voted "World's Best Wing" by a team of wing enthusiasts!
---
From the Menu – A sampling
Award-Winning Bleu Bayou Chicken Wings
Voted the best Buffalo wings in NYS! Mild, medium or hot. Served with celery and bleu cheese.
Shrimp Scampi
Large shrimp sauteed in garlic butter & wine served over pasta.
Pasta Primavera
Sauteed vegetables in garlic and oil.
Filet Mignon
Beef tenderloin with herbed butter and a mushroom cap.
Mushroom and Feta Burger
Topped with sautéed mushrooms and feta cheese.