Connect Card Partner
---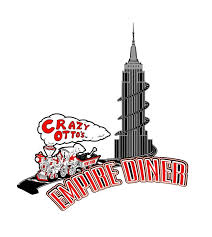 Crazy Otto's Empire Diner
 2-for-1 entrée
 100 W Albany St  Herkimer, NY, Herkimer County, United States
(315) 866-8801
Hours:
Sun. – Tue. 5:00 a.m. to 4:00 p.m.
Wed. – Sat. 5:00 a.m. to 9:00 p.m.
---
$$$$ Crazy Otto's is a 1952 Mountainview diner with many of its original features and home of the three time world record for largest omelet. Conveniently located in Herkimer off the New York State Thruway at exit 30, this vintage diner boasts large portion sizes, fantastic service, and an atmosphere that causes a yearning for the past. Family oriented and family run, Otto's was twice the winner of the New York State Region 4 Best Burger Award and received the Trip Advisor certificate of excellence, while also featuring a full gluten free menu. Stop in to get delicious diner food at famously reasonable diner prices.
---
From The Menu – A Sampling
Prime Rib & Eggs (Weekends & Holidays)
10 oz. hand cut with hash browns and the choice of toast or biscuits and gravy.
Corned Beef Hash & Eggs
Homemade hash with 2 eggs any style.
Eggs Benedict
Poached eggs and honey ham on an English muffin with hollandaise.
Loose Caboose
Burger topped with thinly sliced prime rib, cheddar & Jack cheese, and fried egg topped with 1000 Island dressing and mayo.
Stuffed Chicken Riggies
Ricotta cheese rigatoni with hot Italian sausage, chicken, mushrooms, red chili peppers and garlic in a tomato cream sauce.
Concord Grape Salad
Salad greens, grilled chicken, pecans, crumbly bleu cheese, and red onion topped with concord grape dressing.