Connect Card Partner
---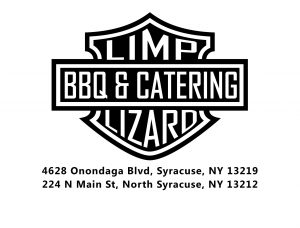 Limp Lizard Bar & Grill
 2-for-1 entrée (Max value $12)
4628 Onondaga Blvd, Syracuse, NY, Onondaga County, United States
(315) 472-7831
Hours:
Mon. – Thur. 11:00 a.m. to 10:00 p.m.
Fri. & Sat. 11:00 a.m. to 1:00 a.m.
Sun. 12:00 p.m. to 10:00 p.m.
---
$$$$ Limp Lizard is the home of mouthwatering BBQ. The restaurant is famous for the combination of BBQ, icy cold ones and some of the best live music in Syracuse and Central New York. Recognizing it isn't always easy to come sit down for a meal, they offer great takeout, too.Stop in and enjoy savory BBQ bites in a comfortable environment and consider Limp Lizard to provide amazing catering for your next party.
---
From the Menu – A sampling
Brisket BBQ
Brisket slow smoked to perfection with their original BBQ sauce with the option to smother it with caramelized onions and cheddar.
Our "Almost World Famous" Philly Cheese Steak
Just like the state fair! Shaved steak, onions, and mushrooms topped with American cheese.
"Big Tom's" Smoked Turkey Sandwich
Smoked turkey piled high with cranberry mayo, lettuce, tomato, onion, and choice of two sides.
BBQ Pork Carolina
BBQ pulled pork topped with their famous cole slaw.
Fried Haddock
Fresh, flakey, and delicious, this haddock is a lightly battered beauty.