Connect Card Partner
---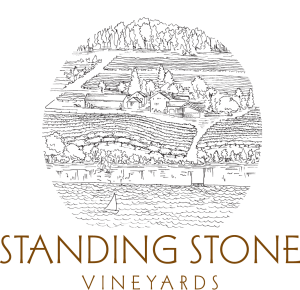 Standing Stone Vineyards
 2-for-1 tasting
Standard tasting ($5 value), Cheese pairing tasting ($10 value), Barrel tour and tasting ($20 value)
 9934 New York State Route 414, Hector, NY, Schuyler County, United States
(607) 582-6051
Hours:
Sun. – Fri. 11:00 a.m. to 5:00 p.m.
Sat. 11:00 a.m. to 6:00 p.m.
Standing Stone Vineyards is the realization of a vision – to grow and craft world class Riesling and Gewurztraminer in the Finger Lakes, on Seneca Lake. Whether you are a wine connoisseur or a casual wine consumer, this vineyard offers many temptations. The wine is enjoyable, excellent, and exciting while the people are knowledgeable, entertaining, and friendly. In addition to wines, they offer palate cleansing gourmet bread with dipping sauces to ensure each wine is tasted individually. And more, they offer a wine and cheese pairing and a barrel cellar tour during which customers can taste wine directly from the barrel. Relish in the complete wine tasting experience while taking in the beautiful grounds.
---
Featured Wines
2014 Dry Vidal
Crisp and clean fruit flavor and texture, with acidity that provides a lovely balance. This wine is an excellent alternative to a dry Riesling; with some light tropical notes on the finish.
2014 Gewurztraminer
Rich aromas of lavender and rose show. Mouth filling, with round, and lengthy notes on the finish.
2014 Old West Block Riesling
Ripe, rich fruit favors with a nice acidic finish. Up front aromas of apricot and pear introduce with light white peach flavors.
2014 Saperavi
Dark plum, dark cherry, and light tobacco.
Smokehouse Red
This wine is chewy & spicy, with lots of bright fruit. Perfect for every day drinking.
2013 Chardonnay Ice
Light honey, banana and melon flavors.