You're invited to WCNY's 6th annual fundraising culinary dinner experience with Chef Marcus Samuelsson, Award-Winning Chef, Restaurateur, Author, and Co-Owner of Red Rooster Harlem. The evening features a three-course dinner paired with the best in Finger Lakes wine. Each course will be introduced by stories and the inspiration behind each recipe. Prior to the dinner, VIP Ticket holders are invited to the VIP Cooking and Drink Demo at WCNY's TV Studios with Marcus.
Save the date! Pre-Sale happening now–June 13. Take 10% off tickets!
---
Locations
Venues

VIP Cooking
and Drink Demo
4:30 p.m.
WCNY
415 W. Fayette St.
Syracuse, NY 13204

THREE-COURSE
Dinner Experience
6:00 p.m.
The Oncenter
800 S. State St.
Syracuse, NY 13202
Dinner Ticket
Enjoy a culinary journey with a three-course dinner menu designed by Chef Marcus Samuelsson. Hear the stories and inspiration behind each dish from Samuelsson and enjoy the best in Finger Lakes wine. The evening also includes a cocktail hour and a silent auction.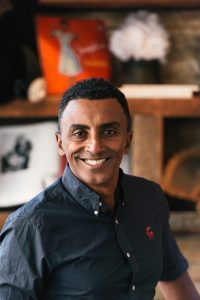 Marcus Samuelsson Bio
Award-Winning Chef, Restaurateur, Author, and Co-Owner of Red Rooster Harlem
Marcus Samuelsson is the acclaimed chef behind many restaurants worldwide including Red Rooster Harlem, MARCUS Montreal, and Marcus B&P in Newark, NJ. Samuelsson was the youngest person to ever receive a three-star review from The New York Times and has won multiple James Beard Foundation Awards including Best Chef: New York City. He was tasked with planning and executing the Obama Administration's first State dinner honoring Indian Prime Minister Manmohan Singh. Samuelsson was also crowned champion of television shows Top Chef Masters and Chopped All Stars, and was the winning mentor on ABC's The Taste. Samuelsson received the James Beard Foundation Award for Outstanding Personality for his TV series titled No Passport Required with VOX/Eater and he is an executive producer of Viceland's show HUSTLE.
He currently serves as Executive Chef-in-Residence of Buzzfeed Tasty's talent program. His exciting new audio project with Audible, titled Our Harlem is out now. A committed philanthropist, Samuelsson is co-chair of Careers through Culinary Arts Program (C-CAP) which focuses on underserved youth. Samuelsson also co-produces the annual week-long festival Harlem EatUp!, which celebrated the food, art, and culture of Harlem for the fifth year this past May. He is the recipient of the 2019 Vilcek Foundation Prize in Culinary Arts, awarded to immigrants who have made lasting contributions to American Society. He is the author of multiple books including The New York Times bestselling memoir Yes, Chef and his latest book– The Red Rooster Cookbook: The Story of Food and Hustle in Harlem. Recent restaurant openings include: Red Rooster Shoreditch in East London, Norda Oslo in Norway, and MARCUS in Montreal. His newest restaurant, Red Rooster Overtown, will open this March in Miami. Marcus is also the founder of the Marcus Samuelsson Group (MSG), which works to maintain Samuelsson's culinary and cultural pillars, creating outstanding experiences that celebrate food, music, culture, and art in all its endeavors from high-end restaurants and fast-casual cafes to media and experiential events. Follow him on Instagram, Facebook, and Twitter at @MarcusCooks.