Central New York History Minutes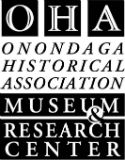 WCNY, in partnership with Onondaga Historical Association and Le Moyne College, has produced Central New York History, a short series of historical biographies that share the stories of significant historical figures from Syracuse and Central New York.
Student interns from Le Moyne College assisted both organizations in the production of this content. OHA historians worked alongside Le Moyne students from the college's History Department in compiling historic images of the subjects and composing the copy for the vignettes. Le Moyne students working toward a degree in communications worked alongside staff from WCNY's production department in the post-production and editing of these videos.
Alexander T. Brown
Alexander T. Brown of Syracuse changed the world with his inventions and his business acumen. Syracuse became "Typewriter City," making two thirds of the world's typewriters thanks to Brown's invention of the Smith Premiere Typewriter. His invention of the pneumatic tire is credited with the founding of the Dunlop Tire Company. But he didn't stop there.
Daniel Edgar Crouse
Daniel Edgar Crouse was the heir to John Crouse, the region's first millionaire grocer whose most visible legacy is a grand college building on the SU campus. Daniel Edgar was much more devoted to a high lifestyle and built a bachelor's paradise in Fayette Park. Upon his death at 49, a woman who claimed to have briefly and secretly been Edgar's wife appeared and claimed daughter, Edgarita, was Crouse's rightful heir.
Herman Ecker
Not long after the Wright Brothers' famous first flight, Herman Ecker of Syracuse built one of the first flying boats. With no instruction manuals or airplane supply houses, Ecker made his flying craft from common materials and secured a place in aviation history.
Eugene Logan
In 1922, local photographer and budding filmmaker, Eugene Logan, produced "A Clouded Name", a melodramatic murder mystery shot in and around Syracuse. The film has preserved a unique visual image of several Central New York locations and includes the only known motion pictures of the Syracuse salt industry.
Mary Elizabeth Evans
Mary Elizabeth Evans was born into a Syracuse family of privilege in 1884. But the early deaths of her father and grandfather soon plunged the family into poverty and homelessness. At 15, she began a candy business that not only provided for the family, but made her a fortune.