Press Releases
Ticket sales extended to May 7
by Rouhollah Goudarzi
April 26, 2021
Ticket sales extended to May 7 to attend WCNY's VIRTUAL Taste of Fame with Chef Lidia Bastianich May 21
WCNY, Central New York's flagship public broadcaster, is partnering with Chef Lidia Bastianich for its live virtual Taste of Fame culinary fundraiser on May 21. The award-winning celebrity chef, author, and host of "Lidia's Kitchen" (APT, WGBH) will host a cooking lesson live on Zoom. Thirty-two local PBS stations are participating in the event.
Tickets are on sale at www.wcny.org/tasteoffame through May 7.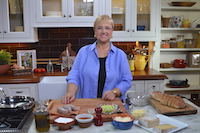 "We are very excited Chef Lidia Bastianich will host this year's virtual Taste of Fame virtual event for participating PBS stations across the country," says Mitch Gelman, WCNY president and chief executive officer. "I think cooking alongside Chef Lidia at home and using meal kits from Sunbasket, is a fun and innovative way for our supporters to participate—whether they are looking for a cooking demonstration from the best, or just a unique way to enjoy good food while entertaining at home. Spring is a time to look forward to for many, this year more than ever, and I think our virtual Taste of Fame experience is the perfect way to celebrate the season."
About the Taste of Fame Virtual Event May 21 on Zoom
Taste of Fame invites guests to be part of a live, culinary journey from the comfort and safety of their homes. WCNY is working with Sunbasket to deliver meal kits to homes, so guests can cook along with Lidia, who will participate from her home kitchen. The Sunbasket meal kit includes Spinach-Artichoke Dip with Traditional Pita for an appetizer, ingredients to create Lidia's Springtime Asparagus Risotto, and Simple Dark Chocolate Bars for an after-dinner dessert snack. The experience begins with a cocktail Q&A with Chef Lidia, moderated by Chef Julia Collin Davison of "America's Test Kitchen" at 6:30 p.m. Guests are invited to ask Lidia a question in the Zoom chat as she creates Fragoncello, one of her favorite spring cocktails. Following the cocktail Q&A at 7 p.m., Lidia will guide guests through a cooking lesson as she creates a springtime asparagus risotto dish. When the cooking lesson ends, guests will have the opportunity to eat with friends in private Zoom rooms.
Dinner Ticket–$175 for 1 Ticket (Sunbasket Ingredient Meal Kit for Four People)
Includes:
30-minute cocktail Q&A with Chef Lidia, moderated by Chef Julia Collin Davison of "America's Test Kitchen"
Sunbasket ingredient meal kit delivered to homes (serves 4)
Live cooking lesson
Private Zoom meeting rooms to eat with friends in other households
Two-week access to the recorded cooking lesson
One-month Digital All Access to "America's Test Kitchen" website
Premium Ticket – $225 for 1 Ticket (Sunbasket Ingredient Meal Kit for Four People)
Includes all Dinner Ticket benefits PLUS an autographed copy of Lidia's cookbook, "Felidia: Recipes from My Flagship Restaurant: A Cookbook"
◄ Back to News