Press Releases
WCNY announces appointment of John McBride
by Rouhollah Goudarzi
April 22, 2021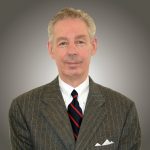 WCNY, Central New York's community-owned flagship public broadcaster is pleased to announce the appointment of John McBride as manager of underwriting and corporate sponsorship.
Prior to joining WCNY, McBride held positions in municipal and corporate banking with Berkshire Bank and J.P. Morgan Chase, and in top development roles at the State University of New York at Morrisville and St. Camillus Health and Rehabilitation Center. McBride also helped write and produce WCNY's "Financial Fitness," a weekly television program on which he was an occasional guest host.
"WCNY is thrilled to welcome John McBride to the station. He has a long history of supporting public broadcasting in Central New York, and we are excited about how John's experience in the private and public sector will help WCNY continue to grow as a source of trusted information, education, music, arts, and culture for our communities," said Mitch Gelman, WCNY President & CEO.
McBride earned a graduate degree from Syracuse University's Maxwell School of Citizenship and Public Affairs. He resides in Jamesville, N.Y., and currently serves as an Onondaga County Legislator. In addition, McBride held senior staff positions for two local New York State senators.
◄ Back to News