Behind the Woman shares personal stories from diverse women leaders in order to empower other women to pursue their goals and dreams.
---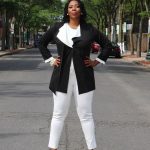 Juhanna Rogers, PhD. is a motivational speaker, commentator, artist, and education activist currently residing in Central New York. As a native of Newark, New Jersey, Dr. Rogers has a commitment to social justice, education, and the arts, having grown up in a diverse and resource rich environment. Dr. Rogers earned a Bachelor's Degree in Integrative Arts from Penn State University – Altoona. While at Penn State, she wrote, directed, and produced artistic performances that celebrated Black history and culture. Her work in theater earned her Central Pennsylvania NAACP Woman of the Year at the age of 20. Upon graduation, Dr. Rogers sought a career in higher education and went on to earn a Master's Degree in Higher Education and Student Affairs from Indiana University. In 2007, she was selected as an alternate Fulbright Scholar based on her research in race and equity within international education. Dr. Rogers used her Fulbright proposal to create a study abroad program that has taken more than 100 students on trips abroad, increasing Indiana University's diversity efforts. In 2010, Dr. Rogers returned to Indiana University to pursue her doctorate in higher education. Her research focuses on critical race theory, racism in education, and the international experiences of Black students and scholars. Over the last ten years, Dr. Rogers has traveled the world exploring ways through which underrepresented populations, specifically people of African descent, can improve their lives and communities. She has become passionate about bringing narratives out of the women she has met along the way to students in urban communities and use these stories as tools for empowerment. In 2011, Dr. Rogers recognized that as a Black female and first generation doctoral student, she and her sistah-scholars needed a strong network as they navigated the program. Dr. Rogers and her friend and dear colleague, Dr. Nadrea Njoku, founded a SistahCircle, a women's support group for Black women in doctoral programs. The SistahCircle helped strengthen the relationships between Black women students and faculty in their doctoral programs. The SistahCircle was a critical factor in the women completing degree requirements. In 2016, Juhanna and seven other colleagues made institutional history at Indiana University by being the largest group of Black women to graduate simultaneously in the School of Education. The group of women gained national attention and were deemed The Great8. The Great8 were selected as honorees for the 2016 Ebony Magazine's Power 100 list. Today, Dr. Rogers utilizes her national and international experience to motivate and educate Black and Brown leaders in order to create change in their communities and professional spaces. In her free time, Dr. Rogers is a contributing writer for various online blogs, offering commentary on higher education and the Black woman's experience. Dr. Rogers leads and organizes workshop experiences and retreats on college campuses. Dr. Rogers encourages women of color to live out loud and unapologetically, walk into who they are.
---

Click the Where to Watch button for viewing formation! Each episode will be available on this page after it airs.


---

One-Time Gift of $20.21
Become one of 2,021 supporters in 2021. Every contribution helps!
---
$10/Month Storytellers receive recognition on the Behind the Scenes website, in the Behind the Woman e-newsletter, first looks, and never-before-seen footage of Behind the Woman content, and discounted ticket rates to Behind the Woman workshop events.
---
$20/Month Honorary Producers receive recognition in the Behind the Woman e-newsletter, recognition in TV show credits and on the Behind the Woman website, first looks, never-before-seen footage of Behind the Woman content, discounted ticket rates to Behind the Woman workshop events, preferred seating at pop-up magazine events, and more. Honorary Producers also receive a complimentary WCNY membership with these benefits: CONNECT MAGAZINE This members-only print magazine is delivered to your home bi-monthly. The publication features regional guides, TV and Radio program schedules, exclusive member benefits, a WiCkNeY KIDS feature, and much more! WCNY PASSPORT Stream more than 1,500 WCNY and PBS shows anywhere, anytime with WCNY Passport. WCNY Passport is available through your computer, smartphone, tablet, Apple TV, Samsung TV, Chromecast, and Firestick. AUCTION BIDDER NUMBER WCNY's live televised TravelAuction features 100s of discounted trips around the world. Members are invited to bid on trips once a year in January. WCNY EVENT DISCOUNTS Enjoy free or reduced rates on select educational programs and events throughout the year. TASTE OF FAME TICKET DISCOUNT WCNY's signature fundraising culinary experience features a four-course meal inspired by a celebrity Chef. The event also features a silent auction and cocktails. WCNY members save $50/ticket. CONNECT CARD DISCOUNTS Enjoy discounts and deals at 100+ restaurants, wineries, and attractions across the region. SOUNDWAVES SUBSCRIPTION TO THE DIGITAL CLASSIC FM GUIDE This monthly publication features radio show listings for Central New York's beloved Classic FM station.
Submit a 'Behind the Woman' nomination.
"Behind the Woman" produces narratives that illustrate how women, in various sectors of our community, choose to pursue their dreams despite the challenges, the fears, and the risks.