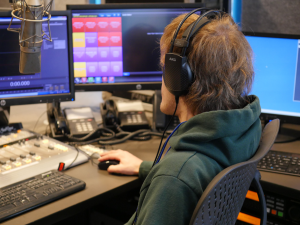 WCNY, Onondaga Cortland Madison (OCM) BOCES, and Onondaga Community College (OCC) have partnered to create an innovative educational opportunity for high school students – a two-year Career and Technical Education (CTE) Media Marketing Communications course. The course combines classroom instruction with hands-on learning experience alongside WCNY professionals.
Click to read: Turning Classroom Learning Into Community Learning by Jody Manning of OCM BOCES
---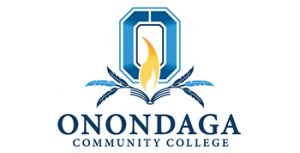 ---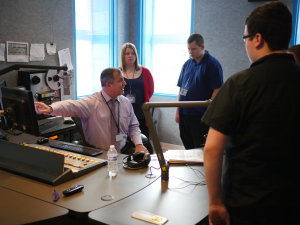 Rigorous high school and college level student studies are paired with hands-on learning in the real-world business setting of WCNY. WCNY's Broadcast and Robert J. Daino Broadcast and Education Center serves as a 21st century classroom for the students, under the tutelage of OCM BOCES and OCC instructors and WCNY professionals.
Students are embedded with WCNY staff to work on projects across WCNY's TV, radio, social media, web, and print platforms, learning firsthand, the ins and outs of Central New York's public broadcaster. They also earn 21 college credits, a Regents High School diploma, and application industry certifications making them both college and career-ready.
Auction of a Lifetime by Jewel Slade
I walked into WCNY with weak knees. I was the only student from my Media Marketing and Communications course volu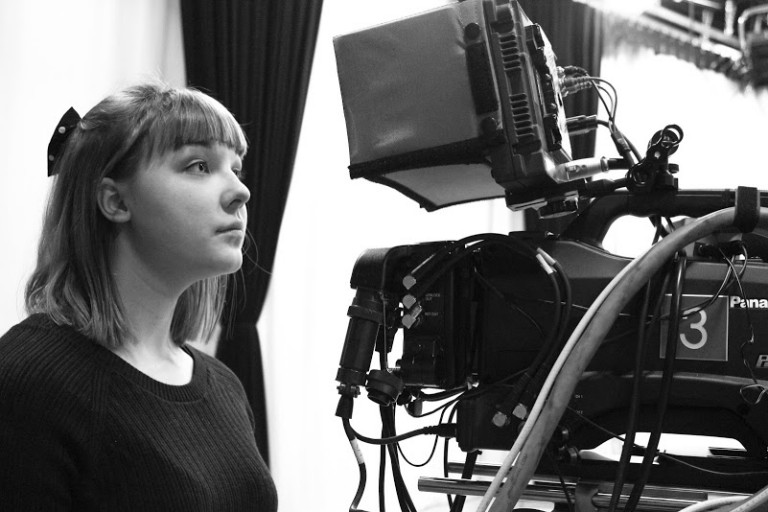 nteering for TravelAuc at the time. But, unlike any opportunity before, I was given a chance I had only always dreamt of. I was about to film my first live TV show.
My hands had been shaking since I had stepped out of the car in the WCNY parking lot. It was nerve wracking to think that I would have so much power and responsibility in my hands.
When I finally walked into the studio I felt a wave of comfort wash over me as I saw familiar faces around when employees and regular volunteers started to walk in. I felt a bit more confident because I knew that I was given this amazing opportunity that many students my age could only see behind a television screen. When the time finally came for the show to start I immediately placed myself behind the camera.
Many WCNY staff members gave me pointers and advice to be the best cinematographer that evening.
Nervousness aside, it was finally my time to shine. I focused my camera, grabbed the handles and waited for my moment. I scanned the sea of volunteers clapping and cheering in the seats of the phone bank where I had sat the year previous when I volunteered. I searched for my perfect opening shot and started feeling good and more at ease. Once I heard the director say "Camera 2" I knew what I had to do. Once that final shot was taken I got plenty of encouragement and tips through my headset that allowed me to talk directly to the TV production staff that was back in the control room.
The next morning I gathered my family in front of the television and pointed out the shots, which I had taken (a special thanks to them for recording the show for me). It was so crazy to be able to say that I did this and I spent my time making someone's night a bit easier while also getting an opportunity that I will never forget.
The whole experience was so surreal but I wish that I could spend everyday behind the lens of a camera. I'm so happy that WCNY gave me this opportunity!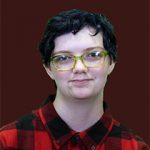 Ash Adams
Chittenango High School
Junior
I enrolled in the OCM BOCES Media Marketing Communications Program embedded at WCNY for multiple reasons. The first reason is I wanted to be part of a radio show. My dad told me he always wanted to become a radio host, but I thought it was kind of bizarre until I thought of it and I loved the idea. I love everything about the thought, the music, the audience, everything.
---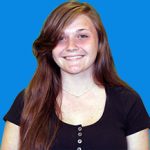 Chloe Billington
Chittenango High School
Junior
I joined the OCM BOCES Media Marketing Communications Program embedded at WCNY, because I am interested in learning about the film industry and seeing how movies and TV shows work behind the scenes. I am hoping to be able to perform on television as well. I am also very passionate about writing. Being able to get what I have to say out to the world, learning new ways to write, and comprehending different forms of writing is exciting to me. I heard this was the perfect program for me, and I honestly can't agree more.
---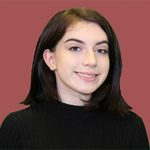 Bailey Broton
Cicero-North Syracuse High School
Senior
I was never really good at high school classes, but after finding the OCM BOCES Media Marketing Communications Program embedded at WCNY, I'll graduate with 12 college credits as a senior. Along with the college credits, I'll be making the connections I need to excel in my hopeful future career working in video and media production.
---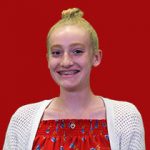 Hannah D'Agostino
Westhill High School
Junior
My name is Hannah D'Agostino. I am a junior at Westhill High School. For Christmas when I was little, my Grandma gave me a book on the making of the Harry Potter movies. I was obsessed with the book and read it almost every day. Since then, I've been fascinated by movie and television production. I'm so excited to be in the Media Marketing Communications Program embedded at WCNY and can't wait to see where it will take me.
---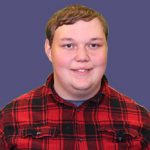 Lyle Freeman
Marcellus High School
Junior
When I was younger, I was in love with making announcements.  I'd always be saying "Attention Shoppers!" or "All Rise!" on the bus or in the grocery store.  My parents knew that I loved talking with a microphone in hand.  Now, a few years and announcements later, I'm taking the OCM BOCES Media Marketing Communications class that will put me close to my dreams.  This way, I can keep that microphone in my hand and develop the skills needed to succeed in the field of communications.
---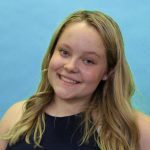 Ilyssa Hollenbeck
Liverpool High School
Junior
My passions include filmmaking, music, and comedy. I create videos and short films for my YouTube channel and for various film festivals. I have a comedy short film premiering at the 2019 Syracuse International Film Festival. I am very passionate about wildlife conservation and environmental sustainability. I hope to raise awareness about these topics in my future films and videos. I also sing, write songs, and play numerous instruments, such as the Australian didgeridoo, ukulele, percussion, piano, and more. Finally, I enjoy writing and would like to perform standup comedy one day. I decided to participate in this program to further my knowledge about media and get some real-life experience. I cannot wait to see what these next two years bring.
---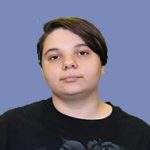 Connor Hunkins
Cicero-North Syracuse High School
Junior
This year I started the Media Marketing Communications Program embedded at WCNY. Growing up for me was always pretty chaotic, but in the middle of it all, I was always able to find comfort in cartoons. I came to this program to learn about the ins and outs of production, so that I can run my own animated TV shows and provide that same comfort to other kids who may need it.
---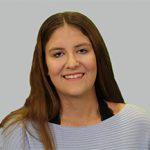 Rebecca Juskow
Cicero-North Syracuse High School
Junior
I'm interested in photography and production. This has always been a dream job of mine and the OCM BOCES Media Marketing Communications Program embedded at WCNY seemed to be a great way for me to explore this field. I'm looking forward to learning how to get into production and explore more with events in Syracuse.
---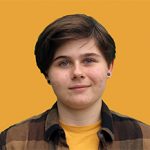 JJ McCarthy
Chittenango High School
Junior
I'm an aspiring journalist hoping to get a good head start in the media industry. I'm from Chittenango and I'm going on 17 years old. I'm insanely excited for the opportunities this program is going to provide and I can't wait to get hands-on experience in the TV studios, radio, and writing. I'd love to explore more career options, such as radio and photography.
---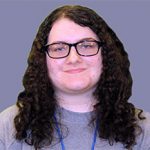 Skylar Richardson
Baldwinsville High School
Junior
I've never been good at school. I was told I had a learning disability when I was eight and put on an Individual Education Plan (IEP). From then on, I always felt different from the other students. When my counselor reached out to me about the BOCES programs, I knew I needed a different environment. The Media Marketing Communications program embedded at WCNY was the program that interested me the most. I look forward to working in an environment where I'm treated like a proper student and I can't wait to get field experience.
---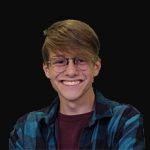 Gabriel Rogers
Westhill High School
Junior
I have a big passion for music and dancing. I was often told I wasn't good enough and wouldn't amount to anything. Statements like that fuel me with the passion and drive to learn everything I can. I can play Ukulele, sing, dance, act, take photos, shoot film, and edit video, in addition to metalwork, woodwork, leatherwork, and much more. Dancing is not about getting from one point on stage to another; it's about enjoying each step along the way. What I do now will have an impact on my future. I might as well enjoy the ride and fill it with everything I can.
---
This article was made possible by the efforts of our students enrolled in the Media Marketing Communications Program at WCNY. Each student received training with WCNY employees on the following subjects: photography with Eric Hayden, WCNY senior producer; photoshop and graphic design with Kyle Laatsch, WCNY senior graphic designer; and website design by Roy Goudarzi, WCNY web developer.

WCNY's Career and Technical Education
Favorite Projects from 2020-–2021
Seth Appleby
"My favorite video was the music video because the song I chose was a perfect fit for where and who I filmed it with. Also I am most proud of this video."
Taite Archer
"My favorite project was the music video. I enjoyed making the music video because we had so much room for creativity, we could choose our song, our scenery, and the people who were in it. It was a very fun experience for me because I got to film and edit something fun with my friends."
Francesca Argentieri
"My favorite project that I have created this year was the news report! I loved being able to choose a topic I was passionate about and learn how to interview someone and do a stand-up report!"
Alex Brummer
"My favorite video that we made was the music video because it was the most fun to film and edit."
Nathan Day
"My favorite project so far has been the Music Video, because I got to pick a song that I really enjoyed and create a visual story around it, and It was really fun to film all the scenes."
Victoria Hunt
"My favorite project so far has been the music video project because I love having so much creative freedom with the music and video!"
Kahyla Johnson
"My favorite project from this year has been the music video so far. The reason why I gravitate towards that project so heavily is because it gave me so much room to work with. I was able to explore my ideas and my creativity. It was super fun and enjoyable to be able to have my ideas come to life. That whole project was unreal. I loved it!"
Casey Knoll
"I really enjoyed the "foley sound" project because it ties into my love of audio, and it was a lot of fun to work on."
Connor Moran
"My favorite project was the "foley sound" project. I really liked recreating all the voices and sounds from a scene out of my favorite movie. I think I have gained a lot of good editing skills from doing that project."