WCNY PRESENTS A SPECIAL ONE-HOUR PRESENTATION:
HONOR FLIGHT:  ONE MORE TOUR
DESCRIPTION: 
This Veterans Day, get inspired by the story of an organization that dedicates an incredible bevy of resources to honoring Veterans from across the Central New York region.  They embark on journey each year that starts far before the Honor Flight takes place and touches the hearts and minds of Veterans and families alike as they leave no stone unturned orchestrating a day filled with meaning all involved will never forget.
WCNY's one-hour television event features this Honor Flight Syracuse organization and the stories of the local veterans chosen to tour of their war memorials in Washington, DC.  Our hope is that while watching you feel like you're there along for the ride.  From the incredibly dedicated volunteers preparing for the flight months ahead of the big day, to meeting our local 92-year old WWII Veteran from Fulton, NY – you will share this once in a lifetime opportunity with a group dedicated to preserving an appreciation for history and service to one's country.
Full video
---
Preview
---
Flags Of Our Heroes
---
Margaret "Peg" Bandy
---
PRODUCTION SUPPORT MADE POSSIBLE BY:
HONOR FLIGHT SYRACUSE MISSION:
The Honor Flight Network is a non-profit organization created to honor America's veterans and transport them via chartered plane to Washington, D.C. The Syracuse organization is expertly managed by a team of dedicated volunteers and the veterans chosen are escorted by trained guardians and medical staff throughout their entire experience.  Once in D.C., these veterans are treated as VIPs throughout their tour.  They are greeted by active military personnel and spend the day visiting and reflecting at the nation's war memorials.
Upon return to Syracuse at the end of the day, Honor Flight organizes a welcome home celebration and parade in coordination with veterans' groups and community organizations.  This is a once in a lifetime opportunity for both the veterans and those involved to understand the magnitude of what it means to serve one's country.
HONOR FLIGHT SPECIFICS:
Honor Flight Syracuse is one of 131 Regional Hubs in the National Honor Flight Network, and serves Veterans from the greater Syracuse area – covering ten counties in Central NY, Northern NY, and the Mohawk Valley.
Top priority is given to World War II survivors, then Korean War Veterans and terminally ill Vietnam Veterans.  Having started in 2005, the national Honor Flight network has flown over twenty thousand veterans to Washington D.C. to see their memorial and there are over twenty seven thousand veterans who have applied and are on their waitlist.
This experience is provided to the selected veterans at absolutely no cost to them.  The goal of Honor Flight Syracuse is to provide every single war veteran in the greater Syracuse area, willing and capable, to have the opportunity to visit THEIR memorial at NO COST.
HONOR FLIGHT SYRACUSE LINK:
http://honorflightsyracuse.org/missions/
HONOR FLIGHT FAQ'S:
http://honorflightsyracuse.org/faqs/
HONOR FLIGHT MISSION VIDEOS:
http://honorflightsyracuse.org/missions/
You can find a list of Honor Flight Syracuse's sponsors at this link: http://honorflightsyracuse.org/donations/

WCNY FEATURED VETERAN
Bart Chalone
WWII Veteran
92 years old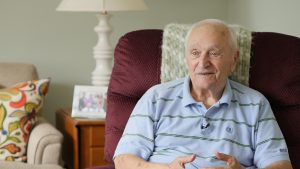 Brief Bio:
Born in Fulton, NY in 1926 and has resided and worked there throughout his life
Drafted in 1944 at 18 years of age into the Army Aircorps
Went overseas early in 1945 and was sent to North Africa with the 1258th AAF Base Unit North African Division – Air Transport Command.
As a Sergeant, he operated large construction machinery and supervised 450 civilians in building landing strips for planes transporting wounded soldiers and prisoners of war.
Chalone served there for 18 months and was discharged late in 1946.
Experience in the military:
Chalone was drafted before he graduated high school, but went back to complete his GED after he was discharged.
Had a submarine scare before reaching Naples, Italy on the West Point troop transport ship which carried over 7,000 men at a time.
Bart navigated land mines left from combat in constructing and managing the airfields
Worked most of his adult life in the construction machinery business.
Retired from Stone and Webster Co. after managing equipment integral to the Atomic Plant called Nine Mile Nuclear Station in Oswego, NY.