Host Dr. Richard O'Neill returns for the 16th season of "Cycle of Health" with a fresh lineup of episodes. Listen to emotional, first-hand accounts of medical stories, join insightful discussions with health professionals, explore the latest in medical science and technology, and learn how the medical community in Central New York is pushing the boundaries of what's possible in healthcare today.
Watch Thursday, Oct. 5 at 8:30 p.m. on WCNY-TV!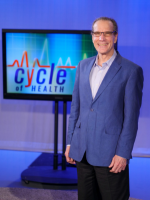 Rich O'Neill, Ph.D., ABPP (oneillr@upstate.edu) is a Fellow of the American Board of Professional Psychology. He has been a faculty member for over 35 years at SUNY Upstate Medical University where he helped to found the Institute for Decision Excellence and Leadership. He began his career as a filmmaker and received a Student Academy Award© for a documentary about a school which inspired disadvantaged students to flourish. As a psychologist, Rich has focused on fostering health, happiness, and success. He has authored many professional and research papers and book chapters and served as President of the New York State Psychological Association. He has presented in the media since 1985 including for 10 years with his Checkup from the Neckup radio and YouTube spots, for 5 years with his Healthy Decisions weekly segment on WSTM-TV, and for the past 11 seasons with the show he helped launch with WCNY–Cycle of Health. He consults now with individuals, partners, and groups on achieving greater health, happiness, and success.
Each episode is also available to stream on-demand at vod.wcny.org/cycleofhealth.
Episode 4: Teen Mental Health
---
Episode 3: Toxins, Toxicants, and Kids
---
Episode 2: Genetics
---
Episode 1: Treating Depression
Stream past seasons of "Cycle of Health" anytime for free on-demand!