The Cat in the Hat Knows a Lot About That!
The Cat in the Hat Knows a Lot About That! is an award-winning series that is designed to spark a love of learning and an interest in science and math for preschool-aged children.
In each program, the Cat in the Hat and his friends Sally and Nick go on a science adventure such as shrinking to bee-size to explore a hive and discover how honey is made; flying with birds to discover how and why they migrate; diving inside flowers to find out more about the animals that depend on them to live; or taking a snowcat to the Arctic to explore freezing and melting.
Guided by the Cat, the children figure things out by engaging in science inquiry. They ask questions, make observations, make predictions, plan investigations, collect data, make discoveries, and generate and discuss ideas about how the world works.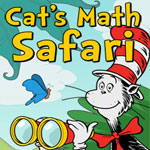 The Cat in the Hat Knows a Lot About That's website provides viewers with interactive  games, videos, apps and more.
 Activities:
Play dozens of games including The Swirly Whirly Pearl Hunt, Welcome to Beaver City, Leafylafoo Roundup, Cat's Math Safari and more
Print activities
Watch videos
Journey on Cat's math safari
Use the snap-o-rama camera
The show airs weekdays at 3:00 p.m. and Sundays at 8:30 a.m. on WCNY and weekdays at 6:30 p.m. on Create.