Curious George
Curious George is a two-time Daytime Emmy award-winning animated series based on the popular books by Margret and H.A. Rey.
The show is for preschool viewers (ages three to five) and aims to inspire children to explore science, engineering and math in the world around them with the world's most curious monkey.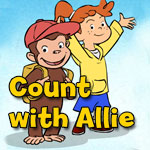 Curious George's website provides viewers with interactive  games, videos, apps and more.
Activities:
George's Busy Day: 16 games of numbers and counting with Curious George
Watch videos
Print activities
Play dozens of games including Everything Must Go, Monkey Moves, Splat Symphony and more
The show airs weekdays at 8:30 a.m. and Saturdays at 7 a.m. on WCNY and weeknights at 6 p.m. on Create.