WCNY's state-of-the-art, LEED Platinum Certified, multi-media facility offers a variety of creative and alternative spaces. Whether you're organizing a conference, hosting a dinner party, or looking to rent studio space for your production crew, WCNY is perfect for any event type. Our team offers the highest quality event management, technical support, and production services to provide a seamless experience for you and your guests!
---
Specialty Services
Promotion
TV, Radio, Print, Social, Web
Production
Videography Photography Audio Recording Editing Services
Graphic design
Event logo, Theme E-vites, Invitations Digital and Print Signage
---
OUR SPACE IS YOUR SPACE
EVENTS
Meetings and Conferences
Screenings and Exhibitions
Commercial TV Production
Concerts and Performances
Company Retreats
Dinners and Galas
Holiday Parties
Weddings
Cooking Demos
TYPES OF SPACES
Television Studios
High-Tech Conference Rooms
10,000-Square-Foot Education Center
Courtyard with Jumbotron
Café & Kitchen
SERVICES AND TECHNOLOGY
Turn-Key Event Management
Photography
Videography
Creative and Design
Full-Service Catering with Choice Vendors
Onsite AV
Live Stream Technology
Projector Digital Signage System
---
For more information or to schedule a tour, contact us today!
Email: events@wcny.org
Phone: (315) 453 – 2424
WCNY
415 W. Fayette St.
Syracuse, NY 13204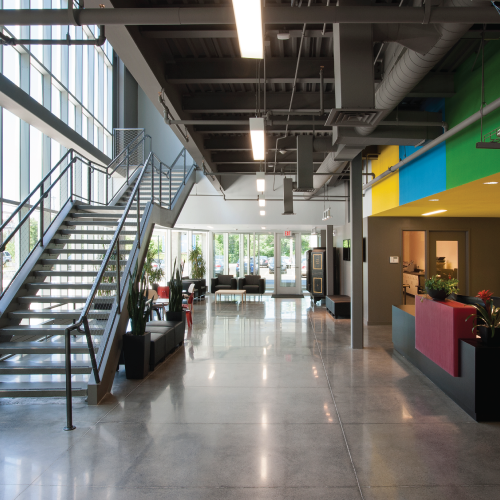 Capacity: 150 people.
Lobby & Gallery: 2,075 U.S.F.
Our spacious lobby and gallery halls are the ideal, multi-level reception spaces, featuring floor-to-ceiling windows, natural light, sofas, and elevator access.
Amenities:
TV Monitors
Digital Signage
Microphones
Music
Food Stations, Buffet, Hors d'oeuvres
High Top Tables
Sofas
Coat Check & Coat Racks
Elevators
Suggested Uses:
Cocktail Receptions
Award Ceremony
Networking Events
Refreshment Station
Registration Area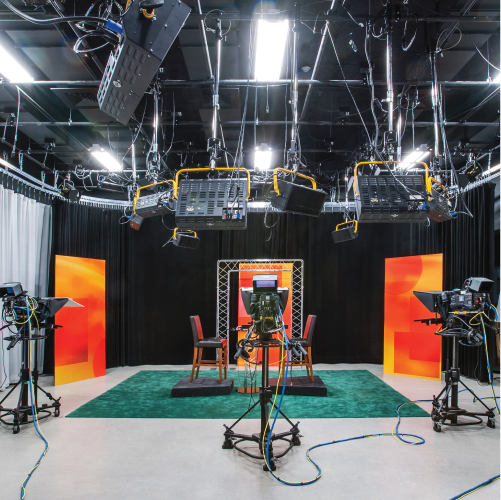 Capacity: Up to 400.
Studio A: 2,585 U.S.F. | Studio B: 1,215 U.S.F. | Performance: 1,030 U.S.F.
Lights, camera, action! Whether your crew needs a production space, you're seeking a ballroom for a gala, a concert hall for a musical performance, or even a gallery for your art exhibition, our highly versatile studios can be transformed to suit any of your event needs!
Amenities:
Recording, Surround Sound, and Microphones
Production and Editing Services
Live Stream Technology
80'' Inch Display Monitors
Full-Service Catering with Choice Vendors
Furniture Rentals
Customized Lighting
Event Choreography
Podium & Risers
Suggested uses:
Recording Studios
Business Meetings, Conferences, & Retreats
Awards Ceremonies
Concerts and Performances
Cocktail Receptions, Galas, and Dinner Parties
Weddings, Anniversaries, and Retirement Parties
Webinars and Seminars
Networking Events and Resource Fairs
Press Conferences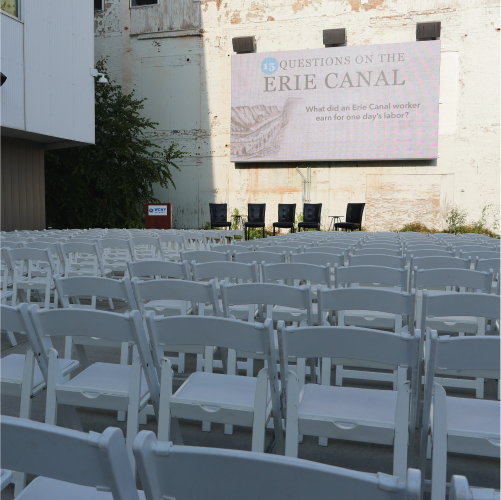 Capacity: 200 people
| 5,700 U.S.F.
Take your event outside to our beautiful patios and gardens, perfect for seasonal parties, receptions, concerts, and performances!
Amenities:
Furniture
Full-Service Catering with Choice Vendors
12' x 25' Monitors
Rain Gardens
Music, Microphones, and Surround Sound
Podium & Risers
Suggested Uses:
Cocktail Receptions and Dinner Parties
Networking Events and Resource Fairs
Concerts and Performances
Public Events
Weddings, Anniversaries, and Retirement Parties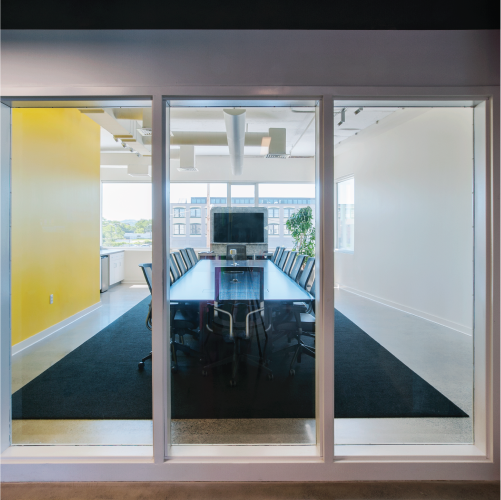 Capacity: 18 people
| Range: 192-560 U.S.F.
Maximize productivity in our vibrant conference rooms that are themed after beloved Sesame Street characters, such as Big Bird, Cookie Monster, and Elmo! WCNY's seven Tech Suite rooms can accommodate groups of various sizes and needs. When the agenda is tight, we'll arrange to have breakfast and lunches delivered, as well as light refreshments available for those long afternoons.
Amenities:
PC with 55'' Monitor
SMART Touch Technology
27'' iMac Computers with all Microsoft Office Products
Conferences Phones
Economic Chairs
Flip Charts & Easels
Full-Service Catering with Choice Vendors
Suggested Uses:
Client Meetings
Staff Retreats
Conference Calls
Webinars & Seminars
Sales Pitches
Offsite Brainstorming
Board Meetings
Workshops
Breakout Sessions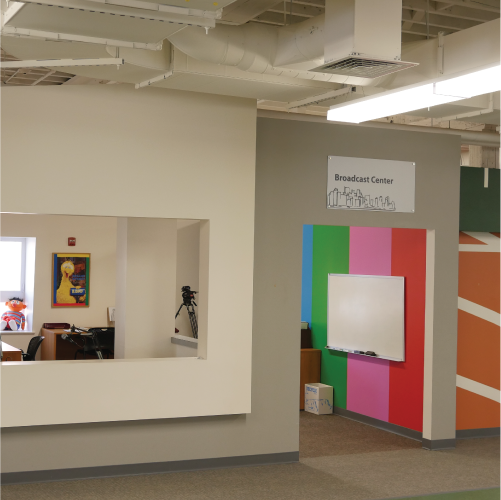 Capacity: 100 people
| 10,000 U.S.F.
For the creatives planning a larger event, our 10,000 square foot Education Center serves as a unique space for your next press conference, resource fair, or company retreat! Located on the third floor of our facility, this center is structured as a 21st century model city for WCNY'S in-house education program, Enterprise America.
Amenities:
Podium & Risers
Microphones
Monitors
Digital Signage
Café & Kitchen
Suggested Uses:
Career & Staff Development Days
Strategic Planning
Press Conferences
Breakout Sessions
Board Meetings
Networking Events
Cocktail Receptions
Dinner Parties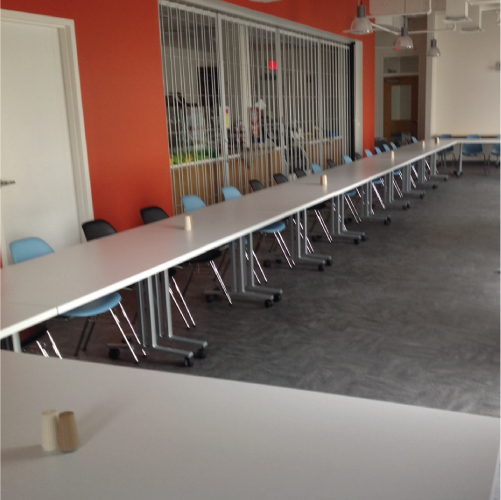 Capacity: 50 people
| 747 U.S.F.
Whether it's a luncheon, workshop day, or reception hour, our café offers a full kitchen and cafeteria, with access to the outdoor courtyard.
Amenities/Set up:
Full-Service Catering with Choice Vendors
Café & Kitchen
Podium & Risers
Microphone
Music
Monitors
Private or Public Access
Suggested Uses:
Reception or Employee Party
Lunch & Dinner Events
Networking Events
Private Concerts
Resource Fairs
Public Events
Seminars
Workshops